In a country where high quality electronic components are almost impossible to find, where there is such strict regulations on their import and their usage. What would one expect, if they hosted a Maker faire? From my side, I expected a small gathering of all the tech geeks and lucky people who have access to laser printers and 3D-cutters and even luckier people who know how to use them, but I couldn't have been more wrong in my entire life.
I got this special invitation to attend for free, so I decided to check out this event and opened their website; I was really impressed to be honest. The website was really well designed and I started to get a good feeling about this Faire, then I thought since I would already be there why don't I attend some of the speeches and workshops. I clicked on the speakers list, and I was amazed, well-known speakers from all around the globe were giving speeches and the workshop list was equally amazing, it is really impressive how a well-designed website could change your idea entirely about something.
I arrived on the long anticipated day and I was early, I always love to see the initial preparations. The moment I entered I my mind was blown away by this huge Iron man Hulk Buster statue in the middle of the faire. I was even more amazed when I knew that it was built entirely by one Egyptian man or in that case a superman.
The booths were all organized and evenly spaced. Every Maker was putting the final touches on their exhibits, I looked behind me to find this large stage waiting for speakers to hop on and give their well-thought speeches. On the other side of the faire there was another stage, with large steps in front of it for people to sit on, which reminded me somehow of a coliseum.
 My watch ticked 10 am which meant that the Faire started, and people started flooding in, at the first glance I could tell that lots of nationalities were here, after all, this is the only Maker Faire in the middle east. Some people were annoyed because of all the security checks and the queue of people but once they entered they forgot all about it. The Faire kicked off with a speaker from the Egyptian government, then a wonderful speech by Dale Dougherty Founder of Makezine, and the day carried on with the awesome speakers.
I would like to focus on one booth in particular, 1Sheeld's booth, they had this large container that looked like a fish tank and some sort of black robot and a car that could go in every direction possible. Later on I discovered that this fish tank was a candy machine with a claw that you could control using your smart phone, and that black robot had a name which was Sauron, their team was amazing solving all the technical problems that arose on spot, which were a lot because the kids were going crazy for that candy machine and the smart phone controlled car. I was so glad to see kids there, and what made me even gladder is that some of them knew about Arduino and 1Sheeld, which is promising in my opinion.
The booth was also selling 1Sheelds which was great, but sadly it was the last shipment to come to Egypt, apparently the market abroad was greater, but this is not the end, it's only the beginning Integreight's CEO set an example for everyone wishing to build his own "tech" startup. Not only did they set an example, but they were also willing to help anyone hoping to enter that field, which he made clear during his speech. They told everyone the tools they used, every obstacle they faced, how they personally overcame it and the ideal way to overcome it as well. They literally "open-sourced" the steps to have a "tech" startup in Egypt. The team is equally amazing, all of them received the same education as any other Egyptian and yet they were able to release a product that gained that much traction, which leaves no room for excuses among young Egyptians.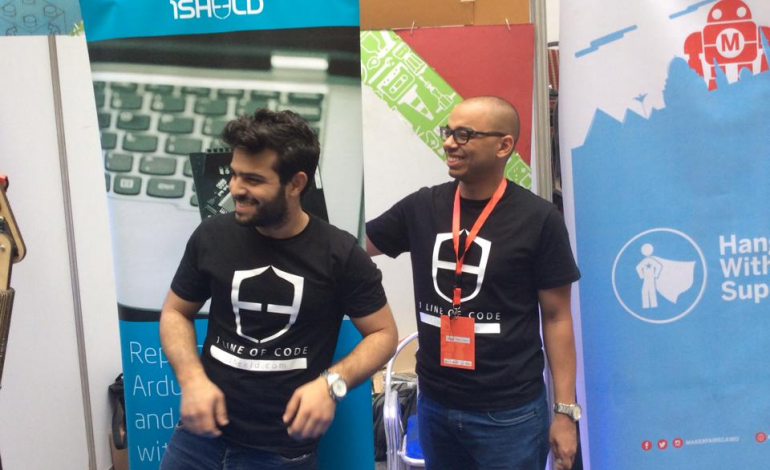 All these thoughts left me staring into the ground unconsciously, but a loud whooshing sound brought me back to reality. I looked up, and hovering about 20 meters above my head was the most amazing Quad copter I've ever seen, well actually it was the first time for me to see a real Quad copter so it had to be the most amazing. I kept staring at it like a child who has entered a candy shop for the first time.
The less fortunate exhibitors who didn't get a booth in the open-air were also great, but you had to climb two floors to see them, so there were less people there. One booth that blew me away was that of a young girl who did origami (the art of folding paper). She had a huge origami snake, and I was told that she had even greater stuff but couldn't bring them because she came from another city. Another booth that caught my attention was a startup that made VR (Virtual Reality) videos for places cameras couldn't reach like the inside of a human body or the Solar System.
It also rained by the end of the day which is a good omen here in Egypt, the day wasn't flawless however. Many people complained that the speeches were unorganized and the workshops were very hard to register for, but I am not worried honestly because things can only get better for Egypt, with 3 branches of Fab lab in Cairo and 3 labs that have their equipment from Fab lab, dozens of Maker spaces and a young enthusiastic community things will only go better, after all it is still our second Maker Faire ever.
I can't wait to attend next year's Maker faire.
All photos are courtesy of Maker Faire Cairo, organized by Fablab Egypt.
P.S. Maker Faire Cairo is the only Maker Faire in Africa that is produced in collaboration with Maker Faire.
Update: They decided to repeat all the workshops for those who didn't get the chance to attend them, which is great.